Rent A business directory
Directory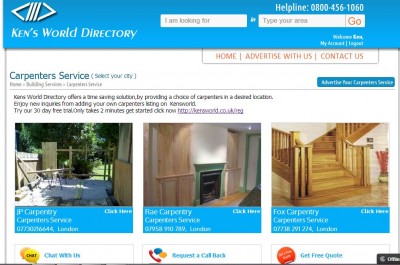 Short info:
Expand Your Branding and enjoy new clients with your own Business Directory. Fantastic opportunity Have your own Business Directory for all your branches and see your business grow. Having your Branches placed on a Directory adds value to your business increasing branding awareness and confidence to your consumer. Your new clients would much prefer to deal with your branded business rather than a one man band. Branded companies add confidence and accountability. Please click link for an example www.kensworld.co.uk/st/drt /Building- Services/Carpenters- Service Selling Features of Directories. As with most Directories we have search facilities taking advantage of counties or towns with your business service. One of the best selling points on the internet is the use of images, our directories provide an images gallery. All your branches can be added to home page, as well as a county and town page. We have incorporated 3 call to action features 1 call back optional, 2 chat on line,3 inquiry form, on home page. Call today For all inquiries please call 0800 456 1060
Reviews
Please add a review for this Service/advertisement.
Start advertising now, only takes 2 minutes.
Call on 0800 456 1060 open 9 am - 10 pm
for more info.

Address
: 491 The Ridgeway
Marshalwick
St Albans
Hertfordshire
AL4 9TX